Artificial knee joints
(Endoprostheses)
The declared goal of our department is to avoid the implantation of artificial joints as much as possible, through the so-called stepwise therapy, that is, by measures described in the sections cartilage damage, osteoarthritis and osteotomy.
For some patients, some "steps" of the treatment do not help , other only for a relatively short term (a few months or years).<br></br>For these patients, it is sometimes necessary to proceed with the last step of the treatment plan, where a part of the knee joint is replaced by a sledge prosthesis, or the whole joint with a total hip replacement.<br></br>For other patients, where the utilization of the body's own repair mechanisms is not possible anymore (old age, low activity level, loose capsule ligaments, severe pain) and which do not respond to conservative treatment, it makes sense to skip some operational-arthroscopic stages (associated with a two-month relief, which these patients can not perform) and to immediately implant an endoprosthesis.
Treatment principle
Metal parts are implanted on the thighs and plastic parts on the lower leg, which are embedded in metal components.<br></br>Plastic is also used on the rear surface of the patella with or without a metal bed.<br></br>The implant parts are anchored by either bone cement or in the case of good bone quality also without cement.
For some time, we are now using the so-called "custom made" prostheses. These implants are pre-navigated. This means that our patient is subjected to a CT in addition to the usual X-ray examination. This data is then sent to the U.S., where the company Wright Medical prepares a prosthesis within 3 to 4 weeks and exact cut blocks that fit entirely on the particular patient's knee. Thus, the prosthesis can be used in the operating room as precise as never before and the surgery time is reduced significantly. The improved fitting precision leads to virtually no more axis errors. One must also no longer drill the bones, thus minimizing blood loss and reducing the risk of fat embolism. The surgery can be done gently. The better fit furthermore promises a longer durability of the prosthesis.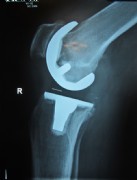 Example of a partial prosthesis
Example of a complete prosthesis
The knee prostheses are implanted "minimally invasive" now, the average cut length is only half as large as in the past - for instance, only 5 - 7 cm in the partial prostheses and about twice the length with the complete prostheses. It therefore no longer cuts the inner thigh muscle.
Advantages: Less pain, faster ambulation and rehabilitation.
Aftercare
The artificial joint should be partially rested for three weeks with two forearm crutches, even though these particular patients fail to accomplish this, in case they are treated with an endoprosthesis. The crutches are therefore used by these people as a "walking assistance". The results, however, do not deteriorate due to the immediate impact.
The patient is able to sit in bed on the first postoperative day and to get up with assistance on the 2nd day.
This is followed by physiotherapy and gait training.
Usually in a rehabilitation center, an increase to the normal life walking ability of the operated leg to return is achieved.
Ability to work
Patients for whom this is still in question, can perform light work after six weeks, heavy physical activity should be avoided in the future.
Sports Ability
After two to four months, you can start cycling, swimming, golf and cross-country skiing. Heavy sports are to be avoided in the long run, as opposed to artificial hip joints (skiing, tennis, etc.)
Many patients still ski and play tennis with their artificial knee joints. We note however, no reduction in durability. It must however be noted that a fall can break bones with the prosthesis, which can have disastrous consequences.
Results
The results of total knee replacements are at least as good as those of artificial hip joints:
About 90 percent of the artificial knee last for ten years. The improvement of models and surgical technique in recent years were so rapid, that new types of prostheses can be expected to last longer, especially since plastic parts facilitate the replacement.
95 per cent of patients experience a significant decrease in pain or total relief.
Complications
1. The most feared, but extremely rare complication is an infection.
2. In about 10 percent of the cases it comes to a loosening of the prosthesis (looking at a period of ten years), which makes a further surgery necessary.
3. In about 10 percent of the cases it comes to surfacial vein thrombosis and to embolism in 0.3 percent
4. Less a complication than a "wear" of the new artificial joint is the abrasion of the plastic parts, which can however be replaced surgically
5. A rare complication is arthrofibrosis (joint callosity), which leads to a restriction of movement and must be operatively treated
6. Rarely it comes to a dislocation of the operated knee joint soon after surgery: The prosthesis dislocates itself and cannot be moved. Requires surgical correction.
Other examples of knee replacements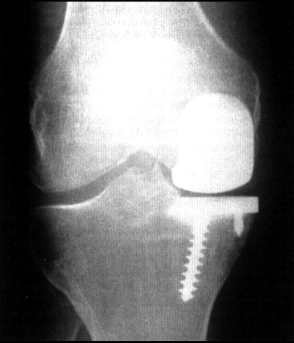 Partial prothesis. Only the iner part is replaced. We apply this procedure very rarely.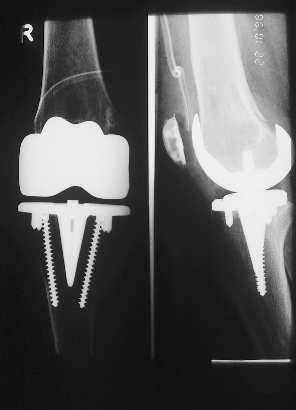 An older total endoprothesis inluding replacement of the kneecap. However, today, we replace kneecaps only very rarely.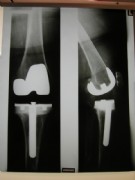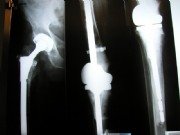 Left: Here an existing, elsewhere placed prosthesis was changed because of loosening, and due to bone loss the height had to built up on the shin.
Center left and center right: A modern knee prosthesis with sparing bone removal and sliding surface replacement. Such knee joints are used routinely by us. They are made for the particular patients affected knee.
Right: A so-called "total femur": A solution for desperate cases, in which there is no other way to preserve the limb: The hip (left) and knee (center and right) had to be completely replaced in a session. The anchorage is deep into the lower leg. The hip and knee part are strongly connected through the femur. It is a so-called tumor prosthesis.