The anti-arthritis program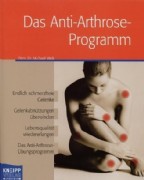 Our joints wear out with time. This can lead to pain and disability. This guide shows you how you can overcome joint abrasion through individual step by step therapy and regain your quality of life. The book provides information on causes and treatment of osteoarthritis from the perspective of experienced orthopedic surgeons:
Causes and Symptoms of Osteoarthritis
affected joints
Treatment of conventional and alternative medicine
Drugs and surgery
Lifestyle, diet and exercise
Low-impact behavior in everyday life
Anti-arthritis exercise program for healthy joints
The author:
Professor Michael Vitek
ISBN: 978-3-7088-0419-4
EUR 14,90
Available in bookstores!
via www.kneippverlag.com (Patient Guides)
There are still some copies available in Dr. Vitek's office.