Knee disorders and knee injuries
may occur at any age (in children due to growth !). Athletes often get injured at the meniscus, the cartilage and especially - since the introduction of high ski boots - the anterior cruciate ligament. Left untreated, these injuries can cause not only pain but also to premature abrasion. From the age of 60 onwards almost everyone suffers from knee osteoarthritis.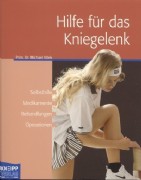 Awarded the golden book of the Austrian book trade!
More than 200,000 copies sold! 17 editions in the Kneipp Verlag and then licensed issues in the Weltbild-Verlag and the Goldmann Mosaik Verlag in Germany
The medical records of treatment in recent years show a great progress. Since the introduction of osteosynthesis (bone compound with screws and plates) and the arthroscopy, knee injuries are quickly treated well. In case of cartilage defects it is now possible to grow replacement cartilage, damaged cartilage can be smoothened and new transplantation methods and biological repair techniques allow even complete cure.
This patient guide provides a very detailed overview of traditional and advanced treatment methods of the knee joint, chances of recovery are examined by experienced orthopedic surgeons.
The author:
Professor Michael Vitek
ISBN: 3-901794-57-3
14,90 €
Available at bookstores
and via www.kneippverlag.com (Patient Guides),
single copies can also be obtained Dr. Vitek's office.